Description

Our guarantee
A MUST-HAVE FOR EVERY CAMPER!
Tired of camping on rocky, chilly, or rough terrain? When you're in the outdoors, restorative rest is very Important! Now, getting your beauty sleep while camping is possible with the svPro™ Ultimate Mattress. Sleep like a baby on our 2.2-inch-thick camping mat and tackle the day to come!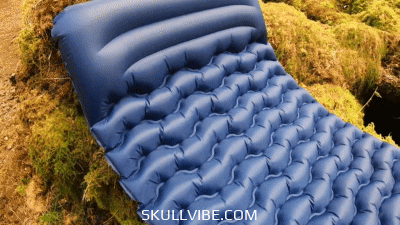 Features:
Extremely Durable: 

As hikers & campers ourselves, we were sick and tired of having mats pop on us! This is why we made sure the mattress we created wasn't going to do so... We use durable dual-layered material for ultimate resistance.
Convenient and Portable: This mattress is our customers' favorite, and the reason for this is how small and compact it is. The size of this mattress is compared to the size of a water bottle when it's in the carrying bag. The worst part about camping is dragging your mattress everywhere you go, but with the Outdoor Mattress, this will never be a problem. 
Maximum Comfort: 

Do you suffer from backache and neck pain every time you go camping? We certainly did... This is why we tested and tested the comfort of our mattress with thousands of people until it was made to be one of the most comfortable rated mattresses ever.
With 

144 insulated flexible air cells

 that contour to the exact shape of your body, the expert design of this pad will help you achieve a comfortable nights sleep no matter where you are.
Cold Protection: Your body absorbs the cold 10x faster from the ground than it does from surrounding cold air. So when camping, the last thing you want is a mattress that does this too. That is why we have an ergonomically designed, multi-layer system inside our mats to ensure absolutely minimal heat will be passed from you to the ground, achieving an R-value of 4.2.
Built-In Pillow:

 

The top of the mattress is padded in the shape of a pillow to provide a proper cushion for your head and neck, which is critical to your comfort and

 

a night of good sleep.


Free Worldwide Delivery via USPS or DHL
Handling time 1-2 business days. Estimated delivery between 6-8 business days 
We truly believe that a good shopping experience is what makes our customers return to us. We want you to be happy and satisfied, therefore, we offer a

Risk-Free 30 Day Guarantee!
If you don't have a positive experience for ANY reason, we will do WHATEVER it takes to make sure you are 100% satisfied with your purchase.
Our staff will be more than happy to assist you with any issues you may have. Just send us an email to

support@skullvibe.com.
We give you the choice of a fully covered replacement or a partial refund.
We offer customer support 24 Hours a Day, 7 Days a week. 100% Customer Satisfaction Guaranteed!